CHILDLINE 1098 SERVICE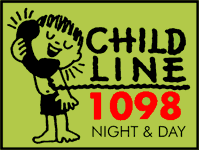 The calls would come late in the night.
"Didi, can you come? There's been a fight at the station."
"Didi, can you help? The police have battered Raju."
And a CHILDLINE volunteer would get up and rush out to where a street child was waiting. On one of those dashes across the sleeping city of Mumbai, an idea was born.
What children needed was a helpline, their own helpline.
In 1996, CHILDLINE India Foundation (CIF) launched CHILDLINE, the country's first toll-free tele-helpline for street children in distress.

CHILDLINE 1098 is a 24 hour free emergency phone outreach service for children in need of care and protection. CHILDLINE
 India Foundation (CIF) is the nodal agency of the Union Ministry of Women and Child Development acting as the parent organization for setting up, managing and monitoring the CHILDLINE 1098 service.
MARAG with the support of CIF has been implementing CHILDLINE Program in Bhuj city of Kutch district, Gujarat from 2012 onward. 24 areas of urban Bhuj are covered. Over 2614 calls, were received during 2012-2015 with 223 cases being handled by MARAG. The cases include supporting children in distress, in need for protection, education and care. With the help of helpline, MARAG was able to support disabled children who were denied admission in school, in another case timely free treatment for eye operation was provided to a child.