Event Description :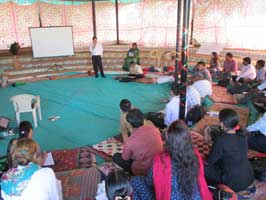 The International Land Coalition (ILC) Asia Land Forum "People-centered policies on land and resources in post-2015 agendas across Asia" was held at Gopnaad in Mera Village, Gujarat on 7-8 October 2014 and hosted by MARAG.
Over 40 ILC Asia members and local civil society organizations participated in the forum.
It provided an opportunity to members to exchange developments, knowledge and strategies on land issues in order for ILC" to become a catalytic force that is able to mobilize significant and systemic change".
Download PDF Report for more information: Documentation and presentations of ILC Asia Land Forum 2014, Gujarat, India
Start Time
08:00 AM
Tuesday, October 07, 2014
Finish Time
05:30 PM
Wednesday, October 08, 2014
Address
Gopnad (Mera), Gujarat, India