Women have always played an active role in all pastoral activities. MARAG, a local NGO/network has helped establish pastoral Maldhari women's groups in different regions to take up local issues and act as pressure groups advocating for women's rights amongst local government and other stakeholders. Maldhari is the predominant pastoral group in Gujarat State. 'Mal' means livestock and 'dhari' means owner. In the past there were 13 Maldhari groups, but today only five remain: the Rabaris (Raika), Bharwad, Ahir, Charan and Jat.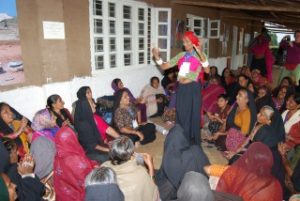 Capacity building is an important part of  strengthening pastoral women's organisations
To date, 20 groups of 500 members have been established in Kutch and more than 50 groups comprising of 1000 members in Sayla and Chotila.
Capacity building
The groups have grown in strength and are in the process of forming a federation, wherein an apex body will facilitate the process in each group to make them independent and self-reliant. A core group is formed by the active members from each group who take part in decision making processes.
MARAG is assisting the groups undertake different income generation activities such as catering of traditional foods and representation of this food in different food festivals across India and in the other parts of the world. The aim is to raise awareness on Maldhari culture. Pastoralist women are known for their beautiful intricate embroidery. Marketing of these products will be carried out at such as handicraft fairs. Some groups will also perform cultural and folk programmes at different forums.
The groups also work collectively towards securing access to and control over grazing lands through taking part in decision making processes. Women have tremendous inherent knowledge in livestock management and livestock products, including milk. This gives women a more secure income and opportunities for participation in decision making processes. To strengthen their traditional livelihood, it is critical to secure rangelands as a resource base.
To contribute to this process, women's awareness of land policies and rights is supported.
 - Source : Page No. 10 & 12 Bulletin RANGELAND (Quarterly Bulletin Number 2) - November 2012